Folk Cuisine

Sake Slootweg
Deep-fried cauliflower that expels even syrupwaffle homesickness
What will we eat tonight? Every day in the Volkskrant a surprising recipe. Today: Fried cauliflower (main or side dish for two people).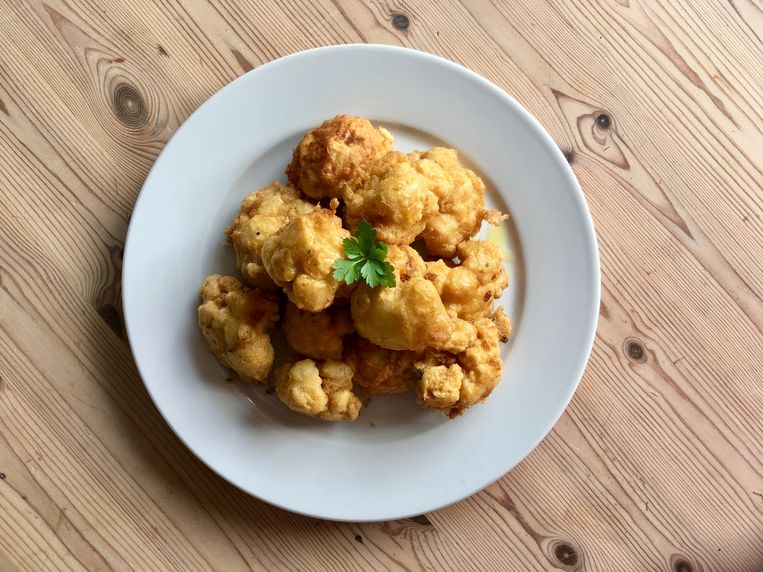 When I was 9 years old, my father announced that we would move to Albania for his work. I didn't think that was a good idea. With my childish intuition I considered the chance that they would have croquettes, fruit hail or casino bread very small. On arrival I was right. Communism had then disappeared from the state palaces on the parade boulevard, but not yet from the sour bread sandwich meat that tasted like plastic. I did not like it.
By homesickness, my brought Syrupwaffle stock became the center of my existence, which consisted only of English learning at the International School. I counted every day how many parcels were still in the plastic shopping bag and then calculated with which ration I would take the summer holiday to the Netherlands. Every day a quarter? Every week one?
My homesickness disappeared on the evening that Emmy came to babysit. The student economy at the University of Tirana was in her early 20-ies and lived with her parents in a flat near us in the street. Cooking was no problem, she told my mother.
"What Doeh who ot?", I asked in my just learned English. ' Cauliflower! ' She said smiling and showed me a cauliflower. I only knew cauliflower in the stale cooked Dutch version but now a delicious scent came from the kitchen. Emmy had made deep-fried cauliflower. Crispy, soft and savoury at the same time, I ate some goodies in this new country after two months. For the first time I didn't think of syrup waffles.
Ingredients
400 g cauliflower
100 Flower
4 eggs
300 ml sunflower oil (approx.)
Drizzle of olive oil