RECIPE from

THE FOLK'S KITCHEN
The Folk's Kitchen: "Fasule pllaqi",an Albanian bean dish with tomato and mint
What will we eat tonight? Every day in the Volkskrant a surprising and tasty recipe. Today: fasule pllaqi, an Albanian bean dish (starter or side dish for 2 persons).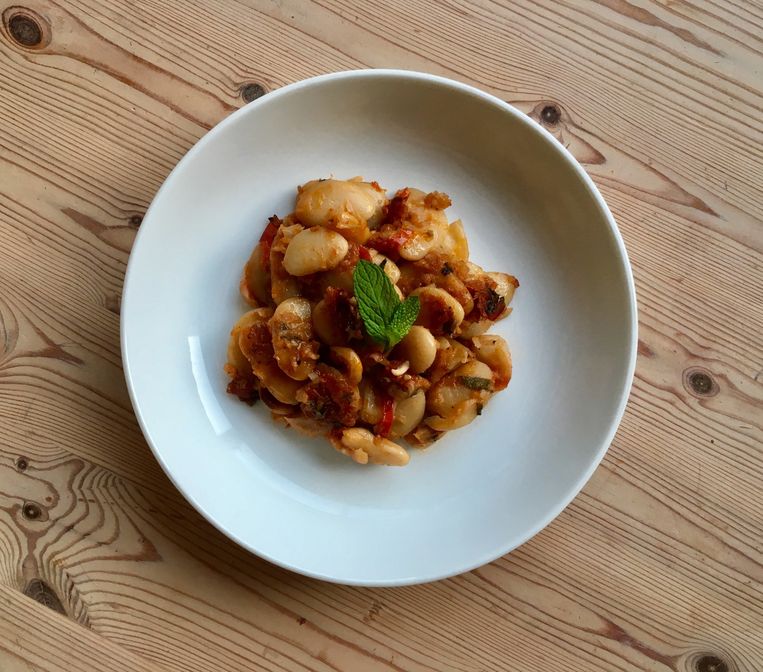 During my recent trip to Tirana, in Albania, where I lived for three years as a child in the 1990s, I went to dinner at Taverna e Kasapit from sisters Alma and Laureta on the advice of old Albanian friends. Kasapi means 'butcher' and refers to their father's butcher's shop in the industrial town of Elbasan, just south of the capital, where they grew up as girls behind the counter.
In a salmon-pink dining room, hidden in a basement, cooking and serving the sisters themselves. Laureta comes out of the kitchen with a plate byrekon chef's shoes. 'Here the meal always starts with soup or byrek', she says and maternally prepares two pieces of the spinach pie.
Spicy cookery and lamb shank follow, but the most impressive is the fasule pllaqi, a bean dish with tomato and mint. Meanwhile, I feel so at home that I slip into the kitchen and ask if the beans in the Netherlands are allowed in the newspaper. While they finish the dessert, Alma and Laureta tell me their version of the dish.
Only when I say goodbye do I see a neatly framed newspaper clippings on the wall. I recognize that font. It is the Tirana edition of the 'best places' section in the travel brochure of Volkskrant Magazine in June 2017. There goes my scoop. Local guide, the Dutchman Vincent van Gerven Oei, who has been living in Albania for years, is also a big fan of Alma and Laureta's 'underground living room'. What does he prefer to eat? "Fasule pllaqi"of course.
Preparation
Soak the beans one night in a bowl with water. Boil them gently in plenty of water in about 70 minutes. Beans from a pot can also be used: pour them off, remove any loosened membranes and store the cooking liquid. Stew the onions for a few minutes in a bottom of water and add a good dash of olive oil. Crush the garlic cloves in their peel and remove the membrane. Put the tomato, mint, bay leaf and garlic cloves on the onion, stir for a few minutes and add 200 milliliters of cooking water. Let simmer for another 5 minutes and season with salt and pepper. Put the beans in a baking dish, pour the sauce over it and put in a preheated oven at 200 degrees for 60 minutes. Remove the laurel (and possibly the garlic) and serve as a warm starter.
Ingredients
200 g large, dried lima beans (Turkish supermarket)
2 red onions, finely chopped
3 cloves of garlic
4 medium-sized tomatoes, in cubes
10 leaves of mint, finely chopped
2 bay leaves