THE FOLK KITCHEN

ALBANESE FRIED COURGETTE BALLS
Back to Tirana
When I was 9 my father got work in Albania. In an old land rover we pined to Tirana. My strongest memory of that time is that the power always went down, exactly when I was allowed to watch De Klokhuis in the evening. Outside it stank of garbage that was rarely picked up. Uit eten gaan in een hamburgertent gerund door Amerikaanse missionarissen vonden we heel luxe.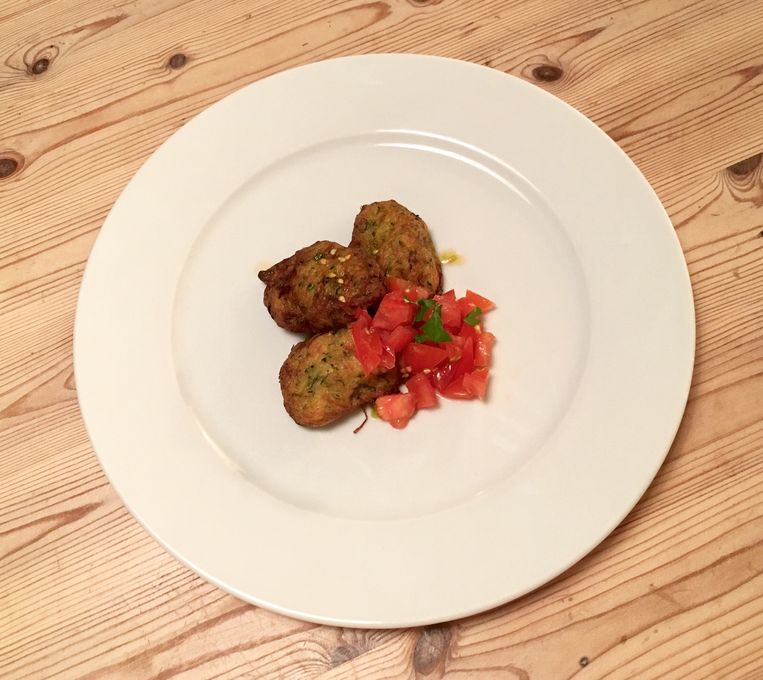 Last week I returned for the first time after twenty years. Now I am standing in the row at Mulliri i Vjeter between Albanian people in their twenties, the local Starbucks with the cozy name 'Oude Molen' and I stroll through a spotless park. The party is at the chemist; children make face-painting for Halloween. Of course, I know that not everyone can pay those coffees and that many young Albanians would prefer to go to Western Europe. Yet I am happy with the Mulliri i Vjeter.
Op het menu van het restaurant waar ik stop om te lunchen worden geen Amerikaanse hamburgers maar juist Albanese klassiekers als feta-paprikapuree van lam met yoghurtsaus als pluspunt aangeprezen.
Maybe that's why I notice: 'zucchini croquettes'. Courgettes are daily food here, but I never ate them as croquettes. 'Invented by our chef,' the waiter says proudly. The fried oval balls are crunchy, creamy, savory and sweet by the mint; the new Albania tastes delicious.
Grate the zucchini into strings with a fine grater. Sprinkle with salt and leave to drain for 15 minutes in a colander. Cut a small cross at the bottom of the tomatoes, put them in water for 30 seconds, just boiled and pull off the skin. Cut them into wedges, remove the flesh and then cut into cubes.
Squeeze the zucchini eggs well and mix them with the tomatoes, onion, flour, egg yolks, mint and some salt and pepper in a bowl until a batter. Beat the egg white stiffly in a second bowl and spat through the batter.
Heat the oil in a high pan to 160 degrees and preheat the oven to 190 degrees. Deep fry balls of the size of a tablespoon in the oil in portions, golden yellow in about 4 minutes on both sides. Place on kitchen paper and cook for a few minutes in the oven. Put 3 croquettes on each plate and garnish with tomato salad.
ALBANESE FRIED COURGETTE BALLS
Appetizer for 2 persons
Ingredients
1 zucchini, ends removed
3 medium-sized tomatoes
1 red onion, finely chopped
35 gr self-raising flour
1 egg, split
7 leaves of mint, finely chopped
1 liter of sunflower oil